This month's newsletter is something of a Valentine; a loving ode to one of our favorite brands, Lindberg.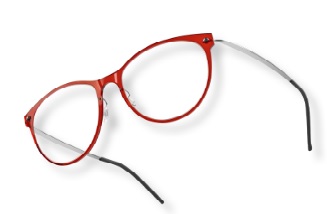 With Valentine's Day just around the corner and love in the air (not to mention our Lindberg Trunk Shows happening this week), this seemed like the perfect time to talk about why it is we love Lindberg so much. It wasn't easy, but we whittled down the list to our four favorite things about this brand of beautiful Danish eyewear.
#1: Craftsmanship
The first reason we love Lindberg is the incomparable craftsmanship they bring to each pair of glasses. Innovative technology, high-quality materials, and exceptional design are the hallmarks of the brand. Lindberg says that "every frame is a statement about aesthetics, technical innovation and impeccable craftsmanship."
#2: Precious Metals
Material choice is an art, and Lindberg is a master. Featuring responsibly sourced materials, Lindberg looks for strength and visual impact with timeless elegance; think titanium, acetate, gold, platinum, diamonds, and natural animal horn. Your eyeglasses are among your most-worn accessories, and Lindberg helps you put your best face forward.
#3: Minimalist
In both design and engineering, Lindberg eyewear embodies an elegant minimalism. That's not to say Lindberg eyewear doesn't make a statement—it does—but their approach is classic, with a focus on simplicity.
In engineering, Lindberg has truly revolutionized eyewear by eliminating the non-essential components, like screws, rivets, and welds, to create frames that are both strong and flexible, as well as lightweight and incredibly comfortable to wear.
#4: Made-to-Order
When you order a pair of Lindberg frames, you'll receive a custom, made-to-order product that meets your individual needs. Handcrafted and individually numbered, you'll reach for your Lindberg frames again and again. Lindberg is a favorite among our own staff, including optician Gary Smith, who wears a Lindberg strip metal-and-acetate combination frame, and manager/frame buyer Nicholas Protz.
Don't forget to stop by our Lindberg Trunk Shows this week! Our Lindberg representative will have all of the latest styles at Eye Elegance Post Oak on Friday from 11am - 5pm and at our Montrose boutique on Saturday from 11am - 5pm. Just because Glaucoma Awareness Month is over, doesn't mean you should forget about your eye health for another year! Make healthy eyes and eyesight one of your 2017 resolutions, and don't forget to connect with Eye Elegance on Facebook, Twitter, Instagram, Google+, Pinterest, and YouTube. Stay tuned to the blog for updates on in-store events, promotions, and more.